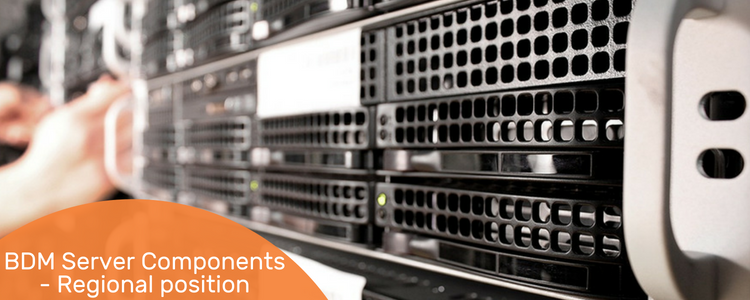 ASBISc Enterprises Plc is one of the leading distributors of Information and Communications Technology products and solutions in EMEA Emerging Markets. We are seeking to recruit an experienced Business Development Manager for AMD Server CPUs to join our team in Czech Republic or Hungary, Slovakia, Romania and Poland.
The purpose of this role is to develop and drive sales of server CPU's, server building blocks and fully-configured server/storage solutions across Central Eastern Europe, Middle East and North Africa, and Russia/CIS countries.
Responsibilities:
· Achieve and exceed sales targets/quotas
· Work closely with Vendor and ASBIS local offices to create strategy, identify correct vertical markets and customers, set up a sales and development plan and follow up on execution
· Work closely with local Vendor`s reps to agree mutual go-to-market strategy and execution;
· Identify and build relations with key customers across the region
· Discover, create, grow and close incremental business opportunities within Asbis' reseller/customer network
· Educate ASBIS local staff in terms of new products, technologies, marketing programs provided by Vendor
· Together with Vendor create a marketing plan, propose promotions with clear KPI and ROI, event plan, participate in customer seminars and present server solutions.
Required skills and experience:
· Expert level in Server and Data Center technologies
· Broad previous experience in server sales;
· Deep understanding of server market, its trends, key vendors, their advantages and disadvantages;
· Good knowledge of White Box server vendors and portfolio (Supermicro, Gigabyte, etc);
· 5+ years' work experience at distributor, vendor or system integrator
· Experience working in international environment is a strong plus
· Fluent English
· Ability to multitask and work under pressure to meet deadlines and targets
· Location: flexible across CEE
An attractive remuneration package will be offered to the successful candidate.
All applications will be treated with the strictest confidentiality. Interested applicants should send their Curriculum Vitae to m.pavlou@asbis.com
---
CV-ul pe care ni-l transmiteți nu trebuie să conțină date sensibile referitoare la: originea rasială sau etnică, convingerile politice; convingerile filozofice sau religioase; apartenența la un sindicat sau la un partid politic; istoricul infracțiunilor sau al procedurilor penale și al sancțiunilor sau amenzilor asociate; comiterea oricărui comportament ilegal sau necorespunzător și a sancțiunilor asociate; sau orice număr de identificare a unei persoane la nivel național.
Dacă CV-ul sau profilul dvs. conține aceste informații, vă declarați de acord/ vă asumați că este pe propriul dvs. risc.